Small businesses are a big market for cyber attacks.
Hackers have realized that smaller businesses are easier targets for cyber attacks. According to the Verizon 2017 Data Breach Investigations Report (DBIR), 61% of cyber attack victims are business with less than 1,000 employees.
So why are small business the target for these invasions? The answer is simple. Small businesses generally have weaker security. What weaknesses does your business have? Here are five of the most common:
Phishing still works. This year's DBIR found that about 1 in 14 users were tricked into following a link or opening an attachment.
Weak passwords. Maybe it's the amount of passwords we all have to remember or lack of creativty. Whatever it is, people are still failing to set strong enough passwords. Stats show 80% of hacking-related breaches leveraged either stolen passwords and/or weak or guessable passwords.
Old defenses aren't working against new threats. Many companies are relaying on outdated cyber security defenses. You need a cyber security plan that keeps pace wit the ever-envolving hacker techniques.
Employees. Unfortunaly, many breaches are a result of employees or former employees who have access toinformation and use it to their benefit, which can often harm your business.
Physical theft. Whether deliberate or accidental, cyber security threats can start with hard copies or sensitive information landing in the wrong hands.
Though these statistics may be alarming, there are affordable solutions to insuring your business doesn't become a victim to cyber attacks. DataVizion is now offering a new managed security service solution, VizionCare Secure. Our solution provides advanced threat intelligence and the same level of security as the largest companies in the world, all at a low monthly cost.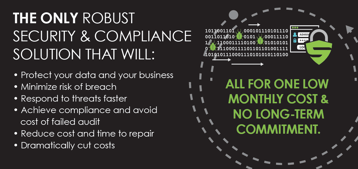 To show businesses just how valuable it is, we offer a free 30-Day Security Health Assessment for your business. During that time, we will assess your security posture, risk profile and identify potential gaps.
You may think your small business is immune to a cyber attack, but in reality small businesses are becoming larger targets. Contact us today for more information or to enroll in the free assessment (402) 327-1880.