DataVizion is proud to be named one of Lincoln's "Best Places to Work" by
Woods & Aitken LLP, the Lincoln Journal Star and the Lincoln Human Resource Management Association.
"B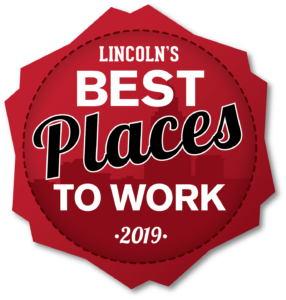 eing named one of Lincoln's Best Places to Work elevates and empowers our employees," Joel Rourke, Director of Sales, said. "At DataVizion we believe empowered employees are the foundation of a solid team. The belief in our "Vizion", values and goals creates an unstoppable team that allows us to not only achieve aggressive goals, but also deliver the best customer service experience in the industry."
Winning entries in the competition were based solely on employee survey results, which were evaluated and ranked by Quantum Workplace of Omaha, NE. DataVizion was acknowledged for creating an enjoyable corporate culture and work environment that fosters personal and professional growth for its employees.
"At its foundation, DataVizion was established with the strategy of building something where people who come into our organization can build long term personal growth." Kelly Schrad, President and CEO, said. "This along with humility-based leadership and a heavy importance on employee culture are at the core of elevating any company to hit its strategic stride."
DataVizion is a locally owned next-generation IT Solution provider with a focus on employee development and company culture. In addition to a very competitive benefits package, we offer our employees a fun, flexible work environment and, in many cases, the ability to work from home.
Career growth is the focus of our employee promise. All employees are given the opportunity to grow their IT knowledge through paid training, certification boot camps, and vendor conferences.
"DataVizion has increased our number of team members by over 80% in just the last 10 months. Making your company's culture a focus especially during times of rapid growth is essential," Aaron Tredway, Director, Technical Services, said. "Now the real work begins – next year we will be a "medium sized" company and our team members have set the bar high."
The result is a team of energized and capable employees, dedicated to supporting clients in their technology needs including managed services, network infrastructure, mobility and security solutions. Learn more at www.datavizion.com.