By now, most people are using cloud-based products such as Apple's iCloud, Dropbox or Google Drive for simplification and efficiency in their personal lives. So, it should come as no surprise that businesses of all sizes are doing the same. How? With Aruba Central.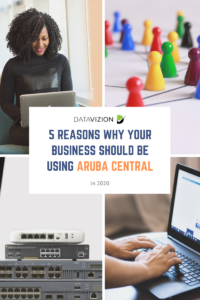 Aruba Central provides a cloud-based network management platform for managing your wireless, WAN, and wired networks. While the benefits are numerous, here are our top five.
Control From Anywhere
Aruba Central is especially valuable for businesses that have employees working across multiple sites or geographical locations. Your IT team can have complete and comprehensive control of your network – wired and wireless – across all of your sites from wherever they area.
Streamlined Network Operations
With Aruba Central, there are no complicated applications or dashboards to learn. Just quick and easy access to the data you need to manage, analyze and maintain your networks, devices, and clients.
Advanced Analytics and Assurance
No need for your team to work around the clock. With continuous monitoring, AI-based analytics provide real-time visibility and insight into what's happening on your network. You even have the ability to create comprehensive alerts that cover device connectivity, network health and user account activity.
Automated Mobile and IoT Device Security
Don't let the number of devices on your network keep your IT Team bogged down. Aruba Central easily integrates with Aruba ClearPass. Once a device connects to your network, it's automatically identified and categorized. IT can set predetermined enforcement rules for various devices on the network.
Easy Deployment
There's no special management hardware for you to install or maintain. This allows your IT team to focus less on managing the infrastructure and more on creating value for your business.
Spark your interest? If you want to learn more about how Aruba Central can benefit your business, please join us Feb. 19th, 2020 for a webinar presented by Rusty Holiday & Mat Lehn, DataVizion's own CTO and our most senior Aruba experts.
UPDATED: Sorry you missed it….fill out the contact form below and we will happily send you a link to the recorded event! [wpforms id="1928"]
Aruba Central Gives You
Streamlined context-aware navigation
Simplified operational workflows
Centralized management and control
Advanced analytics and assurance
Intelligent mobile and IoT device security
Unified Wi-Fi, wired and SD-WAN support